6 Tips for Shepherding Couples Through a Home Project From Ed Earl, the Zen Builder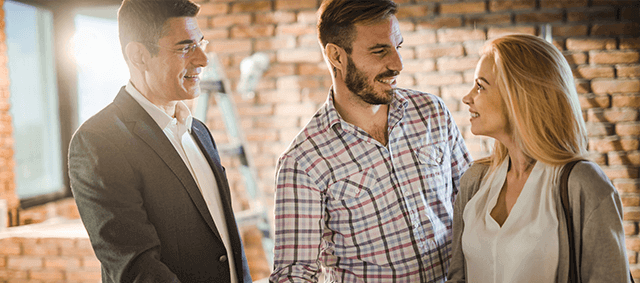 Working with couples can be challenging. You have two different people who often want two different things – and together they're dealing with the stress of making a big investment and disrupting their household. Ed Earl, the "Zen Builder," is both an owners' representative and a business coach for contractors. Here, he shares six helpful tips for keeping couples on the same page throughout a project.
1. Explain the gravity of the situation.
As a professional, you've seen the challenges couples face with home projects time and time again. But your clients may be facing them for the first time. Earl suggests tapping into your experience to help them understand the stressors they'll face.
"When I sit down with a couple for the first time, I ask them: 'Do you know what the most expensive part of a construction project is?' And right away, their minds go to cabinets or flooring," Earl says. "And I say, 'No, the most expensive part of a construction project is the divorce.' I'm kind of joking, but studies have shown one of the most stressful events a couple in a relationship can go through is a home construction project."
Ultimately, preparing your clients for potential challenges will make them better able to have tough discussions, listen to one another and empathize with each other throughout the process.
2. Get them on the same page.
Don't hesitate to take charge when it comes to anticipating and preventing potential issues. Earl finds it helps to guide joint decision-making.
"The key thing in working with couples is that you have to make sure they're both on the same page," Earl says. "Sometimes, the couple will take the divide and conquer approach. They'll say the husband is going to handle the budget, and the wife will be doing all of the design stuff. If your couples tell you that, you need to nip it in the bud. You need to explain from the very beginning that you can't make a design decision without it impacting the budget and they have to work together as a team."
3. Keep them on the same page.
In Earl's experience, a few communications protocols will help keep clients on the same page from start to finish:
⇒ Group Texts: "The benefit of doing a group text is that you can ask the question of the couple and, when one of them responds, the other can see their response," he says. "You're promoting communication between them. And sometimes, it's not just that they don't communicate. They're either busy or they're traveling all the time."
⇒ Group Emails: "Always CC the other spouse on emails," says Earl. "I tell clients at the beginning that we're going to do everything possible to avoid this most expensive cost: 'We don't want you guys to end up in a divorce over a home improvement project. I want you to copy each other on everything and I'm going to do the same thing.'"
You may be thinking that this is easier said than done, but it's important to stick to those protocols from the outset. When Earl gets pushback from clients who want to control certain decisions, he simply reminds them of their first conversation and the value of communication.
Tip: Even when a couple designates a "decision maker" in their contract, Earl keeps his policy of involving both parties in all communications.
4. Empathize with their position.
As a professional, it's helpful to remind yourself that your clients are under a high level of stress – and that this type of stress is unfamiliar to them.
"A home construction project is incredibly disruptive, especially if they're doing a remodel," explains Earl. "It disrupts the whole routine of a household. And if there's a delay, which invariably there is, it's like, Are you kidding me? I've got to spend another week without my kitchen or without my bathroom? That's where it goes back to making the decisions. If you're already stressed because you're having to live amid the disruption, any little disagreement is magnified."
Tip: If your project is going to be very disruptive, suggest that your clients move out for the duration. "I strongly recommend if any of my clients are doing the kitchen that they move out," Earl says. "It's so disruptive. If there's any way they can budget, go rent a house down the street, believe me – it's worth it."
5. Don't turn a blind eye.
You have more power to keep things on track than you might think, and ignoring tensions between your clients can make matters worse.
"Don't ignore things," Earl says. "If you sit down and the husband and wife aren't talking, or they're staring bullets at each other, address it. Say, 'Are we okay this morning? Anything we need to talk about here?' Sometimes, contractors are asked to be marriage counselors and therapists because of what they're dealing with. Try to anticipate it in advance. Sometimes, contractors have an instinct to ignore it. But those kinds of things, they don't go away. They get worse along the way."
6. Validate their frustration – and their decisions.
If they're already having a difficult time, you may not be able to fix it entirely. But you can acknowledge their frustration and remind them that they're making good decisions.
"As drama arises, talk about it and acknowledge it," Earl says. "Say, 'This is a stressful process. I know you're living through this mess and the chaos, and that's wearing on you. You have to recognize that and be sympathetic with yourselves. I can understand because this is probably the biggest financial investment you have ever made as a couple. Give yourselves a break and realize that you're under a lot of pressure.' And if they're up to $50,000 in change orders and that adds pressure, acknowledge that too: 'This is a lot of money, and I understand you weren't planning to do this, but I will tell you that I think every one of the decisions you've made is a good decision.'"
Want to learn more?
Earl recommends reading Managing the Emotional Homeowner by David Lupberger
---
Ed Earl is the principal of Priority 1 Projects, an Owners Representative and Construction Project Management firm based in San Diego. He has 30 years of construction experience and an MBA from Stanford University. He is also a business coach working exclusively with contractors to help them increase both their profitability and enjoyment in their construction company. Ed was nicknamed the 'Zen Builder' as the project manager for the construction of a nunnery complex at Deer Park Monastery in San Diego which incorporates sustainable design and green building techniques including straw bale construction. He is also a 20 year practitioner of Zen Buddhism and has studied under Zen Master Thich Nhat Hanh. Ed is an energetic, talented national speaker with a passion for helping contractors reduce conflict in their business and eliminate drama with their customers.
---
Stay Up to Date on Trends
Get the latest marketing & business tips in your inbox.