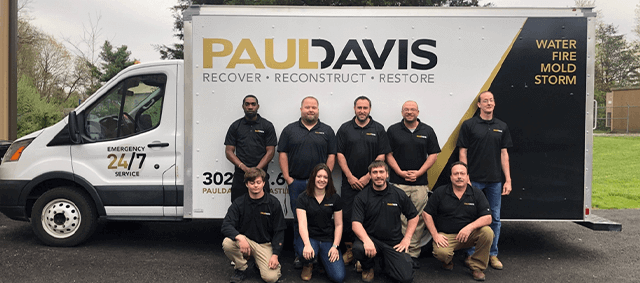 Mike Aruanno, bottom right, has grown his Paul Davis Franchise from one to 13 employees in just two years.

Mike Aruanno, founder of Paul Davis Restoration of Northern DE, has a strong business background and robust experience in the franchise industry. When he started his emergency services company two years ago, it was a strategic move. He wanted to start a company he could run with his son – and retire on. And emergency services was right in his wheelhouse.
Aruanno's research led him to open under the Paul Davis franchise. And he orchestrated such tremendous growth that Paul Davis awarded him Rookie Franchise of the Year in 2018. In an interview, he spoke about the key factors of running a business like his and offered insights into growing wisely and achieving success.
Managing a family-operated business:
Aruanno recommends that you gauge whether you'll work well together and establish boundaries before you start a family-owned and -operated business.
"You have to know your relationship," Aruanno says. "I've always run my own businesses, so my son has worked for me here and there. We've been lucky in the way that it's worked out. But you have to establish boundaries. When you're at work, it's work. And when it's family time, it's family time."
Handling rapid company growth:
Aruanno has grown his company from one employee to 13 in just two years. He credits – and advises – smart, incremental growth.
"If you just think about growth, it can be overwhelming," Aruanno says. "The key is to take it one day at a time, but always be forward-thinking. You have to realize where your growth is going and try to stay three months ahead of the curve. I've seen companies think too forward and strap themselves in the beginning, getting the greatest facility that they won't need for three, four or five years. Why not take that capital and put it into small, sustainable growth goals?"
Spending profit wisely:
Part of smart, incremental growth is reinvesting in your company as you go, Aruanno says, so you can move away from financing and fortify yourself against hardship.
"What we've done is reinvested all of the money into the infrastructure of the business," Aruanno says. "No matter how well you're doing, you can't live for the moment. Take that money, put it back into the business and build for the future. We've built sustainable growth we can handle. If there were a downturn, we could handle that because we did invest the money instead of financing everything."
Being part of a franchise:
Starting out with a franchise gives you some immediate advantages, including resources and brand recognition, Aruanno says.
"The difference between being in a franchise and doing it yourself is that you have that support network," he says. "You have people behind you and resources that would take a long time to establish as a standalone. You can hit the ground running a lot faster. And the brand name helps. We're an insurance-based company and Paul Davis has the best reputation in the world with the insurance industry. So, having that brand gives us a lot of credibility."
Tip: Finding the right franchise for you
"Be careful when you get into a franchise," Aruanno says. "Really look at that model and drill down on if it's right for you. Also, every franchise has a Franchise Disclosure Document (FDD). Read it thoroughly and vet the franchise. Call people who are in the franchise that fit your situation (one- vs. three-unit, metropolitan vs. rural area, etc.)."
Working with the insurance model:
According to Aruanno, working with insurance companies is complex and demands a high level of organization – as well as multiple software platforms. But there are perks to learning the insurance model, especially when it comes to homeowner satisfaction.
"It gives you a guideline to go by," Aruanno says. "An insurance company isn't going to pay too much, and you can transfer that pricing model over to the homeowner. It gives them a great deal because a lot of companies would charge more for a non-insurance loss. But, through HomeAdvisor, many times the homeowner finds out that it is an insurance claim. They've got a water loss, they call HomeAdvisor, and when the pro goes out there, we're able to advise them that their insurance covers this type of loss and they do have coverage for these things."
Training to help customers in stressful times:
Customer service is key, especially in emergency services. Aruanno says that the resources and training his franchise provides, as well as his already-stellar team, contribute greatly to his good reputation with homeowners.
"Paul Davis' training is very customer service oriented," Aruanno says. "Through the Paul Davis network, we have the highest Net Promoter Score (NPS) in the country, which is a customer relations score. So, they're not just words to us. That's our number one. We talk about it every day in our morning meeting. Our whole business model is built around customer service."
Knowing your strengths and weaknesses:
Aruanno says you don't have to be the greatest business person in the world to be successful – you just have to know and address your strengths and weaknesses.
"If you're not good at sales, hire a salesman in the beginning," Aruanno says. "If that's your strength, work on your strengths and fill in your weaknesses. Be forward-thinking, know your limitations and fill those gaps."
Maintaining your brand and brand promise:
From the start, Aruanno has made a point of being consistent from his brand marketing through to the execution of the brand promise.
"Our marketing matches throughout the whole marketing scheme," Aruanno says. "Our trucks look like our website. Our employees are always in uniform and identifiable. We've started a program where we send a video that explains the process to new customers so that, when we get there, they know what to expect. And our number one serving basic is: Ensure your words and actions align with your brand promise. If you make a promise, you have to make sure that everything you say and everything you do aligns with your brand promise."
Being a Franchisee in the HomeAdvisor network:
Aruanno joined HomeAdvisor from the start, after hearing about it from friends and doing careful research. He decided it could be an asset to his business. He enjoys the opportunity to work directly with homeowners, even when insurance isn't involved, and he recommends the tool to other pros.
"HomeAdvisor covers the whole gamut," Aruanno says. "It doesn't matter what the service is. It could be pest control, windows, plumbing or drain cleaning. HomeAdvisor is excellent. If a homeowner needs it, HomeAdvisor is the way to go."
Aruanno most appreciates the instant connection HomeAdvisor facilitates. "I'm in talks with the homeowner within two minutes of getting the lead," he says. "I get phone calls, texts, emails, a fax. There's no way I can miss a HomeAdvisor lead. The best advice I can give is to be responsive quickly. There's a credibility factor to somebody that would react that quickly. Don't put off anything. Somebody calls or you say you're going to make a phone call, make the phone call now."

*HomeAdvisor Pro is now Angi Leads

Stay Up to Date on Trends
Get the latest marketing & business tips in your inbox.