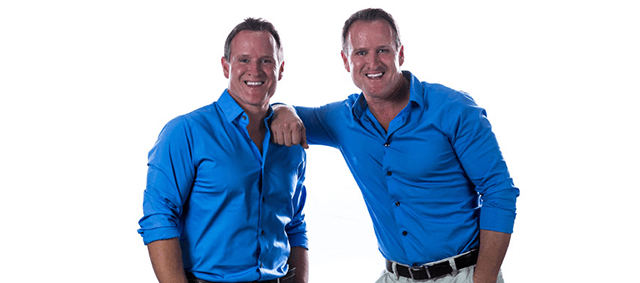 Image courtesy of Twin Home Experts.
Dave Schuelke teared up and took a deep breath after he left the Cothran family apartment during a routine call to their apartment complex for a building leak back in 2013. Dave didn't find the source of the leak inside the Cothran apartment; instead, he found a bathroom inaccessible to Steve Cothran, then 51, who recently had his leg amputated due to diabetes. Steve lived in the apartment with his elderly mother, Dorothy, and Dorothy's husband, John, who suffered from Parkinson's disease and osteoarthritis.
Dave and his twin brother, Jim, were immediately moved to use their skillset to alleviate some of the Cothran family's pain. As cofounders of Twin Home Experts, a plumbing, HVAC and mold remediation company, the brothers quickly tasked their team with a full accessible bathroom renovation at no cost to the Cothrans.
The end result, which was captured in an emotional video posted to YouTube and covered by major local news outlets, changed the lives of Dave and Jim as much as it changed the lives of the Cothran family. In fact, the Schuelke brothers were so touched by the experience that they launched a formal altruistic component of their business, called "Random Acts of Twinfulness." They've since helped everyone from Vietnam veterans to people experiencing homelessness in their community, and they've never looked back.
Here, Dave and Jim share their top three tips for using your home service business to help the people who need it most — plus, a look at how creating an authentic give-back culture can help you build relationships and grow your business.
1. Lead by example.
Twin Home Experts has offices in Phoenix and Los Angeles — and the crew is always on the lookout for a person or family they can give back to during the course of their work. But fostering the give-back culture, Jim said, starts before any staff hit the streets.
"I think it starts with the leadership," Jim said. "If the leaders create that space and create that heartfelt type of gratitude within our employees, then as leaders we get to extend that to our local community." The next step is getting employees onboard.
"We do our weekly Wednesday meetings and we get in a circle at the end, and we literally express our gratitude for one another, of what [employees] did throughout the week," Jim said. "All these little moments create bigger moments out in the field."
2. Choose a cause close to your heart.
The Schuelke twins choose to work with customers rather than non-profit organizations — "Our heart right now is [in] giving back to our customers. It's that human-to-human sort of relationship" — but, when it comes to community giving, you should choose the method that means the most to you. No matter what avenue you choose, Jim said, authenticity is the most vital component to success.
"I think a lot of people that maybe try to do it, there's no authenticity to it," Jim said. "If there was a true moment that you wanted to cry, a lot of people try to hold that back. You don't want to hold back. You want to be in that moment because that's the true authenticity of it."
"Obviously do your job, as far as whatever service you're providing… but go outside the box and be vulnerable and authentic." It's not only rewarding to be in the moment, but it can also help to build genuine relationships and goodwill.
3. Be authentic.
An important component of being authentic, Jim said, is to put the customer and the positive act first. When you're giving and sharing authentically, he explains, the benefits to your business — such as media coverage and greater community visibility and recognition — will naturally follow.
The coverage the brothers received for the Cothran job, for example, continues to bring them new business. "We've had customers call us five years later and say, 'I saved your guys' information and now I need you. I'm not going with anybody else. I'm going with you because you guys are so trusted and I trust you,'" Jim said. "So, you build that credibility as well within the community."
Of course, while Dave and Jim are grateful for the business growth they've seen as a result of their community involvement, the greatest reward comes from knowing they're using their unique skills to help improve the quality of people's lives. "It's the most rewarding feeling on a day-to-day basis to wake up and know that our company is part of that give back… that spirit," Jim said. "It's phenomenal."
Stay Up to Date on Trends
Get the latest marketing & business tips in your inbox.