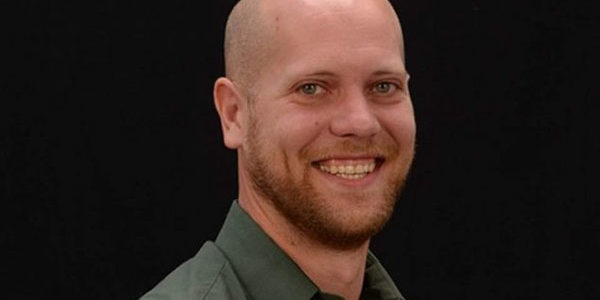 The Craft Professional of the Year (CPOY) award is an honor presented by the Associated Building Contractors (ABC) at their annual Workforce Development Conference. The award is given to an individual who exhibits outstanding skills and leadership, demonstrates a passion for the trade, takes pride in hands-on work, and is committed to being the ultimate example of merit shop success in the field. In other words, it's a huge honor to be considered for it.
This year, Chris Allison, a project manager at Nebraska's Sentry Electric, Inc. was named a finalist. We were fortunate to get Chris to sit down with us for a Q&A about what it means to be a CPOY finalist and how others can find the same success."
Here's what he had to say:
How did you become a finalist for the CPOY award?
My company nominated me for it after learning about the opportunity through the Nebraska chapter of the Associated Builders and Contractors (ABC). They chose me because I've been successfully running our largest projects and doing a very profitable work — and also because I do a lot in the community, including volunteer work for breast cancer, child advocacy, Habitat for Humanity and the Boy Scouts of America, where I'm teaching electrical merit badge.
How did your company, Sentry, react when you were announced as a finalist?
They weren't too surprised. I was pretty shocked, though! I didn't think I stood a chance. But I guess my resume looked pretty good and there were some recommendation letters sent in that spoke highly of me — one from my boss, one from a customer, and one from my other boss; I teach electrical classes at night.
How do you think being a finalist for this award will impact your career?
It already has! Shortly after I got back from the conference, the company promoted me from journeyman electrician to project manager. And it's also just a nice honor. It's good to feel appreciated.
What was the conference like?
The conference is based on all the construction fields. There's a hands-on competition for each construction aspect. It's like Skills USA but this is just construction-based. So, they have a hands-on competition for each section and every region can send in their competitors to compete in different fields. They have 300 people competing in a hands-on competition that goes 8 hours plus a written competition to see who gets the best in their trade. The one I did was more of an overall competition for Craft Professional of the Year.
What other awards have you won?
I also just recently got ABC's teacher of the year award for Nebraska.
Have any of your students gone on to receive industry recognition?
We had our regional competition here, which I set up — and one of my first students won it and went on to compete at the national ABC competition. He didn't win, but he did very well. Seeing him being recognized at that level was better than being nominated myself — just knowing that I helped him get to where he is; it's more than I could ask for.
What advice do you have for others who might like to be recognized?
I would tell them that if you just show a little bit of initiative and try and work hard you can really move up fast in construction. There's a stigma in this industry that people aren't smart and can't do other jobs; it really drives me to prove that wrong and prove there's a lot of us who are very smart and very good at what we do. I like to let people know this is a great job that has vast potential for moving up in it, and you don't have the burdens of college — and you get paid as you learn and work and become better at it.
FUN FACT: A self-taught programmer, Chris built an app to help Sentry streamline its paperwork processes and improve communications between the field and the office. It's been a huge success!
Stay Up to Date on Trends
Get the latest marketing & business tips in your inbox.