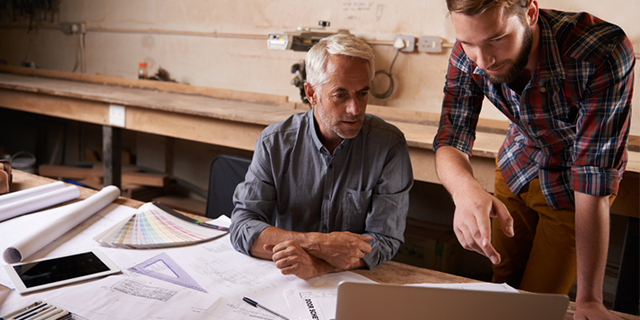 Bruce and Nick Zindel are a father-son duo working out of Dallas, Texas. Bruce started his business, Center Point Renovations, in 2001. Nick grew up watching his father build a successful remodeling business and decided to follow in his dad's footsteps. Now, the two work together to bring quality workmanship and a positive customer experience to the homeowners they serve.
Q: What's the best part about a father-son company dynamic?
A: "The best part is you have two people who have spent their lives together, who are on the same page about treating customers the right way and building a reputable business because of the pride and ownership that they have."
Q: How does working together help you better serve your customers?
A: "When it's a family-owned and operated business, where your family name is on the sign and the paperwork, you treat your customers like family. If we make a mistake or the customer isn't 100% satisfied, we want to know about it, because we always strive to make it right."
Q: What impact has HomeAdvisor had on your business?
A: "HomeAdvisor has been a big part of our success, helping us generate quality bathroom remodeling leads."
As the business expands to include window projects, the Zindels say, "we have a lot of faith that HomeAdvisor will provide us with the same kind of quality leads for window projects like it has for bathroom remodels."
Q: Do you have any tips or pointers for other pros considering or working in a father/son business?
A: "You have to love what you're doing and have a lot of trust in each other for it to be the best that it can be."
*HomeAdvisor Pro is now Angi Leads
Stay Up to Date on Trends
Get the latest marketing & business tips in your inbox.