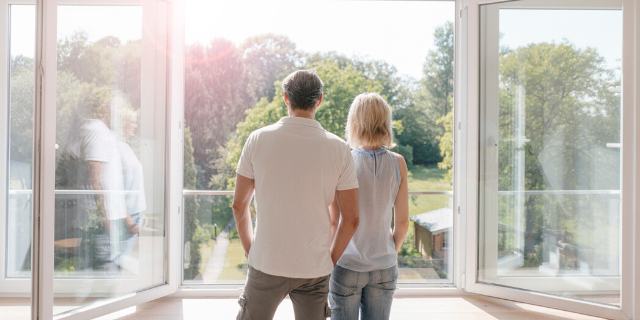 As the weather warms up and you start scheduling work for the summer, take a look at the tasks homeowners are booking for the coming months. Knowing which projects homeowners are planning to complete can help you tailor your pitches to win their business—and steer you in the right direction when it comes to marketing and special offers, too.
1. Tree service
Pricing at a glance: Homeowners typically pay between $75 and $2000 for tree trimming and removal, according to Angi's True Cost Guide*.
From tree trimming to full removal, the need for this service is rising. Homeowners are improving the look of their outdoor areas as they spend more time around the house, and the landscape is a major component of that.
While specific prices for removal and trimming depend on the location and size of the tree, pros typically charge between $75 and $1,000 for trimming, and $400 to $2,000 for removal. If you have a certified arborist on staff, you can also offer tree inspections and arborist reports to your customers, beginning at about $450.
2. Landscaping and sprinklers
Pricing at a glance: Homeowners usually pay between $1,000 to $5,000 or more for landscaping and sprinkler installation, according to Angi's True Cost Guide*.
This summer, homeowners are interested in hiring pros to help with everything from basic lawn care to backyard remodels, some of which include high–dollar tasks like patio installation and outdoor kitchen upgrades.
For a medium–level job, like a sprinkler system installation, pros typically charge between $1,700 and $3,500. For more extensive work, like landscaping installation or artificial turf installation, pros usually start at $2,700 and can charge upwards of $25,000, depending on the level and scope of work involved.
3. Concrete and masonry
Pricing at a glance: Homeowners generally pay between $8 and $18 per square foot for patio and pathway installation, according to Angi's True Cost Guide reports*.
Homeowners are looking to upgrade their walkways, patios and pathways, which provides an opportunity for pros who offer concrete, masonry and brick work.
Pros typically charge an average of $8 and $18 square feet to lay a walkway, but the price can vary dramatically based on the material used. For example, gravel sets a homeowner back $3 to $6 per square foot, while pavers can run up to $25 per square foot. Consider discussing or advertising concrete and masonry work with your customers in the coming weeks to gauge interest and get appointments on the books.
4. Garages, enclosures and outbuildings
Pricing at a glance: Homeowners typically pay between $215 to $12,800 and up for garage repairs, conversions and renovations, via Angi's True Cost Guide*.
In addition to improving their landscapes, there's an increase in requests for work on garages, enclosures and outbuildings like the popular "she shed."
Garage door repairs typically start at about $215, but new installation costs homeowners about $1,100 and goes up depending on the type of work they 're interested in. If you're discussing a repair or installation, consider offering add–on projects your team can do, like power washing or even new construction.
5. Pools and decks
Pricing at a glance: Homeowners typically pay between $4,120 and $10,715 for deck installation, and $14,350 and $42,000. for pool installation, according to Angi's True Cost Guide*.
Homeowners are showing an increased interest in pool and deck work. This includes big projects like installation as well as maintenance work, filtration upgrades and deck staining.
Depending on the market you work in, pool and deck work ranges dramatically in price. Smaller tasks, like cleaning and restaining, can run from $1.50 to $4 per square foot. For larger projects, like pool installation, homeowners typically pay between $14,350 and $42,000.
---
*Based on internal, True Cost Guide, data compiled from homeowners reporting the cost of their projects from January, 1998 through August, 2019, nationwide.
Stay Up to Date on Trends
Get the latest marketing & business tips in your inbox.