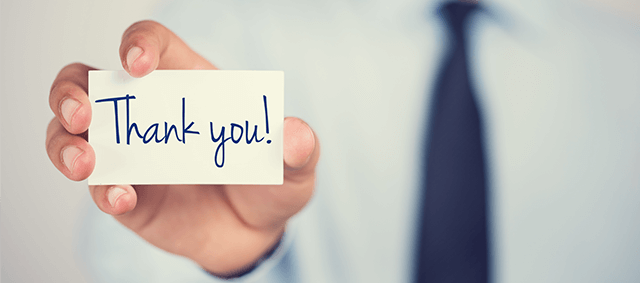 The best gift in the world? Feeling appreciated.
If you're entering a slow season for your business, then now is a great time to put in work that will pay dividends throughout the year: Show your customers that you care about them. Simple gestures like a handwritten note can generate referrals, gain repeat customers and solidify your place in the community as the hardworking, reliable pro you are.
Here are three simple ways to show customers you appreciate their business.
1. Send them a thank-you or season-specific greeting.
There's nothing like receiving a personalized, hand-written note. For a newer customer, this can be a general thank-you note: "Thank you for your business this year — I truly hope you're enjoying your new flooring."
If you have a great working relationship with the customer, check in about exciting personal news: "Congratulations on the new baby — wishing your family love and happiness in the new year."
You can also send holiday-appropriate cards to your customers. Mix and match the type of card and message that works best for each client. The time you'll spend writing these notes will pay off when your client's loved one spots your card on a fridge or mantle and brings you new business.
2. Deliver a branded gift.
If you have pens, water bottles, sunglasses or tote bags with your company's logo on it, don't hesitate to hand out the swag! You can pair company goodies with a handwritten note, or simply drop by your customer's house with a friendly hello and a little something for them to enjoy. There are multiple benefits to this: Your client has a new item to enjoy, face-time with a company rep, and a physical reminder of who you are (and the work you do).
If you don't have any products to hand out, consider making a donation in your customers' names to a local non-profit organization. The key is to get in front of the people who matter most with your friendly, professional disposition — and let them know you care.
3. Brighten their day with a thoughtful suprise.
If you have customers with a genuine need for a household tool, or if you'd like to show a sense of humor, play up your insider knowledge with a small gift for their toolbox. Keep it simple, like a hammer or a screwdriver, but make it useful or relevant. Do you have a client whose porch light's burned out? Another who's asked your thoughts on the best kind of cleaner for their new granite countertops? Spend a few extra dollars to brighten up their week.
In the end, only you know which gifts will be best for your clients. Balance budget, time and resources appropriately, but also remember how much your business can benefit in the long-run from a thoughtful, personalized gift. When your customers plan new projects in the future, they're going to remember it was you who made time for them when you didn't have to — not your competitors.
Stay Up to Date on Trends
Get the latest marketing & business tips in your inbox.