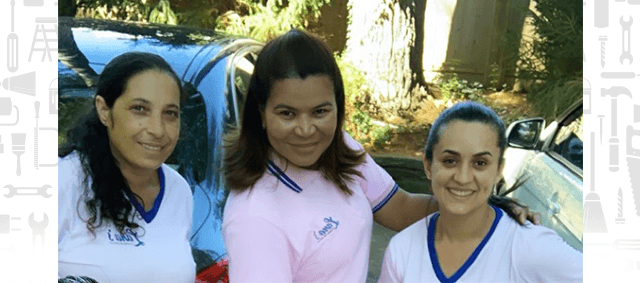 Salete Lana, Owner of Lana's Cleaning Services in Willow Grove, Pennsylvania, joined the HomeAdvisor network a little over two years ago – and she's since collected more than 60 verified client reviews to earn a 4.8-star rating!
With the help of HomeAdvisor, Lana says she's been able to take advantage of a large platform, grow her long-standing client base and motivate her employees to do their best. Her recipe for success? Training employees to a high standard, learning from experience, building strong client relationships, and – most importantly – doing everything with heart.
Detail-oriented training:
When Lana trains a new employee, she does more than discuss the ins and outs of cleaning – she goes the extra mile to make sure they're seeing things from the client's perspective. Whether she's explaining how to deliver on a client's wish for kosher cleaning or pointing out sentimental objects that require special care, Lana makes sure her workers are detail-oriented and prepared.
"It's not just about cleaning," she says. "Sometimes we get a client with a different religion or with different cultural codes… so everything over there has to be done in a set way. When I send my team on a job, I go over every detail."
Learning from experience:
Lana's detail-oriented mindset comes from several years' learning experience, she says. Whether a client encounter is positive or challenging, she considers every touchpoint an opportunity to grow and improve.
HomeAdvisor reviews have offered new and incredible insights into how she can fine-tune her services, says Lana. "[The reviews] help me keep excellence control over the quality of my work and my helpers are a lot more motivated," Lana says. "When I get a negative review that also helps me. I don't think of negatives as a bad thing… it's a learning experience."
Building client relationships:
For Lana, building lasting client relationships is one of the most rewarding parts of the job. While some larger companies gain and lose clients every day, she's proud to have served some families for several years.

"I have a client I've worked for 20 years," she says. "I babysat their kids; now those kids are married. Now, I work on their houses."

The secret to maintaining those long-term relationships? Lana says it's being present with your customers and visiting with them face-to-face regularly – listening to feedback and always making sure they get what they pay for. Above all, says Lana, it's important to do everything from the heart.

"When I'm there, I do things with all of my love. I clean like I clean my own house," says Lana. "I think the client can feel that connection, because I love what I do."

*HomeAdvisor Pro is now Angi Leads

Stay Up to Date on Trends
Get the latest marketing & business tips in your inbox.