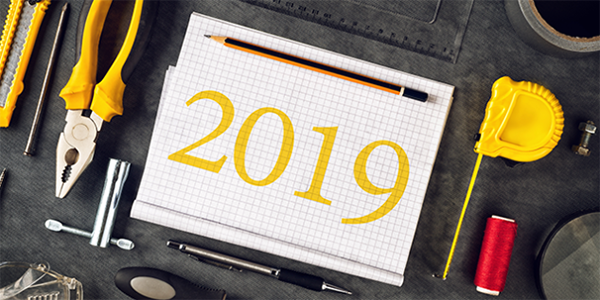 Did you make a New Year's resolution to win more jobs and grow your business in 2019? We've put together the top seven tips from successful pros in our network to help you reach your goals:
1. Prioritize ratings and reviews.
These days, homeowners can thoroughly research projects from the comfort of their homes – from the materials they want to the contractors they hire. And in most cases, they'll see your customer reviews before they get to the stage of calling references. In fact, Angi Leads (formerly HomeAdvisor Pro) has found that pros with three or more reviews are three times more likely to win jobs than pros with fewer.
If you want to put your reviews front and center, embed the Angi Leads (formerly HomeAdvisor Pro) Review Widget on your website and give potential clients a first-hand look at your ratings. If your reviews are looking sparse, check out the following resources.
3 Ways to Use Your Review Link
Turning Leads Into Lifelong Clients and Five-Star Reviews
2. Diversify your marketing plan.
To grow your business through marketing, you'll need to do more than create a website and purchase a directory listing. The best marketing efforts are diversified across a number of different channels, including online marketplaces and social media. With a diversified approach, you'll get your business in front of a larger pool of potential customers. And you'll be able to engage with existing customers in a way that builds trust and connections – which may lead to more referrals.
6 Ways to Build a Better Marketing Plan
Marketing as a Small Business
3. Learn from your peers.
Nothing beats hands-on experience, which is why Angi Leads (formerly HomeAdvisor Pro) taps the top experts in our network for their advice, success stories and insights into industry trends. Visit HomeAdvisor's Pro Resource Center for tips on everything from first-year success to hiring in a labor shortage and increasing your win rate. And subscribe to our pro newsletter to get the latest sent straight to your inbox.
Retooling the Remodeling Business
One Pro's Roadmap to $3 Million+ in HomeAdvisor Leads
4. Value your team.
There are all too many reasons that your staff should be a priority this year – and for every year to come. First, as the industry faces a labor shortage and the threat of recession, employee retention will continue to be a challenge. Second, your team is integral to maintaining your reputation, and undervalued employees won't be motivated to perform to quality. Check Angi Leads' (formerly HomeAdvisor Pro) Salary Guides to be sure your wages are fair and competitive, or reference the Bureau of Labor Statistics for a closer look at regional rates.
How to Outsmart the Labor Shortage
HomeAdvisor 2018 Skilled Labor Shortage Report
5. Hire an apprentice.
If you're ready to expand your business, or you're simply coming to the point that you need more help, let 2019 be the year that you hire an apprentice. When you train an apprentice, you have the benefit of a lower recruitment cost, potential tax credits and a new team member who will be more likely to stay with your company into the future. And your apprentice will have the benefit of gaining in-demand skills, trade credentials and upward mobility in their career.
How to Start an Apprenticeship Program for Your Business
Why You Should Hire an Apprentice for Your Business
6. Be smart about scaling.
A business that is in the full swing of growth is as exhilarating as it is intimidating. As you scale up your projects and staff, it's important to keep both hands on the wheel. If you take on more than you can handle, your services are sure to suffer. Take a step back and assess the ways your role will change, what your recruiting strategy will be and how much you can expand without sacrificing quality. And consider tools to effectively manage your paperwork and billing.
7 Simple Tips for Scaling Your Home Services Business
Madeleine MacRae's 5 Steps to Hiring Success
7. Adopt sustainable practices.
With each year, consumers demand more sustainable practices and products out of the companies they hire and buy from. And looking to the future, 83 percent of millennials – the generation slated to become the largest in 2019 – say it's very important to them that companies implement eco-conscious programs and practices*. In the home services industry, consumers are looking for sustainable building materials, energy-efficient features and Leadership in Energy and Environmental Design (LEED) certifications.
7 Tips for Going Green as a Business
5 Reasons Going Green is Worth the Green
*According to The Conference Board Global Consumer Confidence Survey conducted in collaboration with Nielsen Q2 2017
**Angi Leads is formerly HomeAdvisor Pro
Stay Up to Date on Trends
Get the latest marketing & business tips in your inbox.