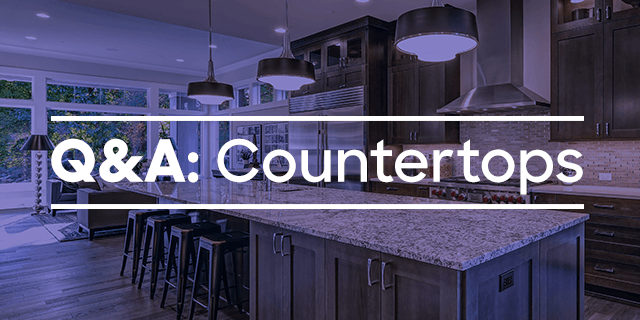 For our next installment of Industry Q&A's, we checked in with Caesarstone, a leading manufacturer of quartz countertops. Since the company's founding in 1987, quartz has gone from a little–known countertop material to the top choice among designers across a range of kitchen styles, from farmhouse to contemporary. Read on for details on the benefits of quartz, plus steps the industry is taking to safeguard pros who work with it.
Wellness has become a major theme in home design, and that's only going to intensify. How does quartz play into that story?
Caesarstone is 100–percent non–porous, which means no bacteria can seep in, the way it can with the other countertop materials. With simple dishwasher soap and water, Caesarstone wipes perfectly clean with nothing left behind. This is also why it's certified kosher and safe for restaurants and hospitals. Whereas beauty and low–maintenance have always been big selling points with quartz, more homeowners are drawn to its healthy–living benefits.
Sustainability is another priority with more homeowners. How should pros talk about quartz in the context of the environment?
The fact that Caesarstone is 97 percent quartz means it's incredibly durable, with a lifetime warranty. It's not a disposable surface that needs to be switched out regularly. That's part of the beauty of being the first quartz surface in the industry–we know that our countertops are as strong after 20+ years as when they're first installed. Additionally, in Caesarstone manufacturing, we recycle 99 percent of water to re–use within our manufacturing loop.
What is Caesarstone doing to address some of the safety concerns around working with quartz?
We recently launched the Master of Stone Program, an educational platform open to anyone in the industry, with eight different learning modules. It was over 18 months in the making. It is interactive and dynamic, meaning we are soliciting real time feedback from our customers so that we continue to innovate and add to these modules on a regular basis.
The program provides education and information for safe practices for fabricators, like the importance of using wet machinery and proper ventilation to protect against hazardous dust. Caesarstone is the only quartz manufacturer with after–market service technicians that can help our customers through a certification process, and even OSHA inspections.
Outdoor living is a huge trend. How is Caesarstone serving homeowners there?
We are incredibly excited to have just launched the first outdoor rated quartz product in the market. The Caesarstone Solaris collection is UV rated, and was tested over many years in desert and "tundra" like environments to withstand any weather–related issues. It will not crack or fade or yellow and comes with a 10 year warranty. It has a high fire rating such that a bbq can be imbedded in the counter and it's even suitable for outdoor fireplace surrounds.
Back to indoor kitchens, what are some of your most popular colors? Are there any new colors or patterns that you think will take off?
Whites continue to trend. In this particular time, when homeowners are very sensitive to hygienic issues, it really continues to trend as people equate white to clean. That said, we just launched four new dark colors which have taken off far beyond even our expectations. They are warm and dramatic at the same time and really lend themselves to a hominess that people are not only craving but also experiencing as we all #stayhome.
Stay Up to Date on Trends
Get the latest marketing & business tips in your inbox.