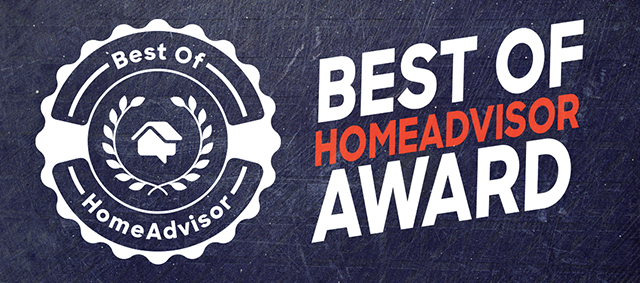 It's your last chance to qualify for the Best of HomeAdvisor Award! And if you haven't won before, you may be wondering what's involved in the process. Mark Tomblin of Prism Enterprises, LLC, and Neil Satterlee of Mountain View Exteriors have claimed Best of HomeAdvisor five years in a row. Here, they share their secrets for winning the award and using it as a tool to build trust and business.
Step 1: Provide Excellent Service
Both Tomblin and Satterlee agree: Top-notch customer service is the cornerstone of an award-winning business.
Mark emphasizes keeping customers informed every step of the way during their home improvement projects. "We talk to the customers while we're there. We explain everything — what we're doing, what we're going to do, what we did for them. We let them know the whole process," he says.
He often sends customers pictures and videos of the work in progress so they can see what's going on even if they aren't physically present. This helps to cut confusion, he adds, and ensures customers know what they're getting into.
Satterlee's advice? Keep your work quality high and consistent. "Take your time and do it perfectly," he says. "Although we're working in people's homes all the time, this is the only time that customer is going to spend money like this to get this done."
He added that it's important to focus on one job at a time. And both Satterlee and Tomblin concur that respecting your customer's home is of the utmost importance.
"We treat every home like it's our own," says Tomblin.
Step 2: Generate Reviews
To win the Best of HomeAdvisor Award, you must maintain an average rating of four or more stars, and you must have received at least three new reviews over the past six months. But getting those ratings and reviews may not be as difficult as it seems, says Satterlee. He takes advantage of HomeAdvisor's option to request reviews from past customers.
"I did that last month, and within a day I had four people post new five-star reviews," he adds.
For Tomblin, generating reviews can be as simple as a question. "I usually just ask them to do me a huge favor. If you ask them to do you a favor, for the most part, they'll do it," he says.
But both pros agree that the best way to drive good reviews is through quality work. Satterlee has found that an excellent job is generally rewarded with glowing reviews.
Step 3: Win!
See below for full details on what it takes to win. Best of HomeAdvisor Winners will be notified by email about their achievement in May. Take a day to celebrate – but the journey isn't over yet!
Step 4: Leverage Your Award
Don't let your Best of HomeAdvisor Award collect dust in your inbox. Highlight it, and any other accolades you've received, in your promotional materials to attract customers and earn their trust.
"I tell every job that I give a price to, every single person," says Satterlee, noting that the award helps build his businesses' credibility.
Tomblin agrees. "I think anybody out there that wins the award, or any type of achievement – it's a lot to advertise," he says. "We ought to get as much recognition as we can get out there."
Tomblin has a lot of ideas for how award winners can promote themselves, including putting the Best of HomeAdvisor Winner badge on their website and creating decals to place on company trucks.
Step 5: Stay Motivated
Satterlee appreciates the achievement of winning Best of HomeAdvisor. But to him it's more than an accolade. He uses the award as motivation to continually improve his company. "It's almost like golf," he says. "If a golfer wins the tournament, he wants to try to win that tournament again next year."
His goal is to win the award every year until he retires. Satterlee says it feels like winning a trophy and pushes him to keep Mountain View Exteriors' work consistent. Without incentives like Best of HomeAdvisor, he says, it would be easy for a professional to fall into a slump or become complacent.
"It gives the contractor something to really reach out toward, to try to achieve," he says.
What You Need to Know About Qualifying
The Best of HomeAdvisor Award is automatically awarded in early May to pros who meet the eligibility criteria.
To qualify for the Best of HomeAdvisor Award, in the 6 months leading up to the award you must be an active member, receive zero customer complaints, and be active for match (leads on) at least 75% of the time. You must also collect 3+ new reviews and maintain an average rating of 4 or higher. Request a review today to make sure you're eligible!
*Angi Leads is formerly HomeAdvisor Pro
Stay Up to Date on Trends
Get the latest marketing & business tips in your inbox.