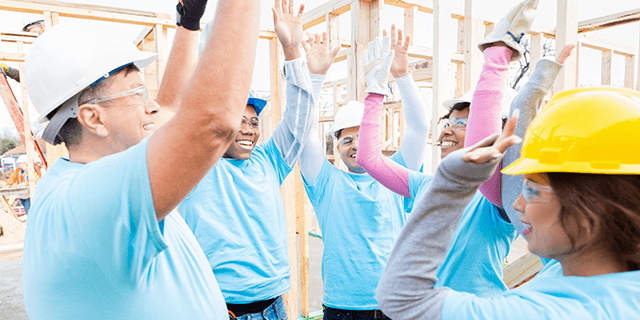 'Tis the season of giving! And if you aren't already, now may be the perfect time for your business to start giving back to the community (plus, retaining top talent and even attracting new customers). Whether you choose to host a food drive, volunteer one afternoon at a homeless shelter or donate a percentage of profits to charity — there are a number of fulfilling ways your business can give back. Here are five ideas to help you get started.
1) Host a Drive
Before your business hosts a drive, be sure to get in touch with a few local nonprofits to figure out which items are most needed. Then, grab a box to collect your donations (like nonperishable food, books, toys or coats) and keep it nearby. Let your customers, employees, friends and family know that you intend to give back this year and invite them to donate to your cause. Once you've reached your goal, drop off the box at your chosen charity and thank everyone who contributed.
2) Use Your Skills
If you're looking for a way to give back that's unique to your business, think about using your pro skills to benefit the surrounding community. Whether you offer mold remediation for free to the less fortunate, like the Angi Leads (formerly HomeAdvisor Pro) pros at Twin Home Experts, or offer small home improvements at a lower cost in special cases, this is something that only you can do. Plus, this will keep your business top of mind for customers looking to hire an altruistic company.
3) Offer a Volunteer Day
Chances are, you and your team have causes that you're passionate about. So, consider making time throughout the year to contribute to the charities you love! One way to do this is to offer a paid volunteer day or bonus vacation day as a perk to your employees. This is a great way to give back to the community without disrupting your normal day-to-day schedule. Plus, this benefit can help you retain your favorite employees.
4) Hire Intentionally
Another great way to help your community is to hire employees with care. Whether you make an extra effort to hire veterans (like the Angi Leads (formerly HomeAdvisor Pro) pros at JDog Junk Removal and Hauling) or seek out apprentices and employees new to the trades — your company can make a difference in the lives of job seekers. If your staff is full, consider donating an afternoon to a local trade school to help advise the next generation of pros.
5) Share Your Profits
If you're looking for a low-effort, high-impact way to help out your community, see if there's any room in your company budget to share a percentage of your profits with a local charity. Whether you pledge to do this for a week, a month or the rest of the year — extra funds are a big help for nonprofits looking to make a difference. And be sure to highlight your contributions on your company website and social pages so your customers can see that they're hiring a charitable business.
Stay Up to Date on Trends
Get the latest marketing & business tips in your inbox.