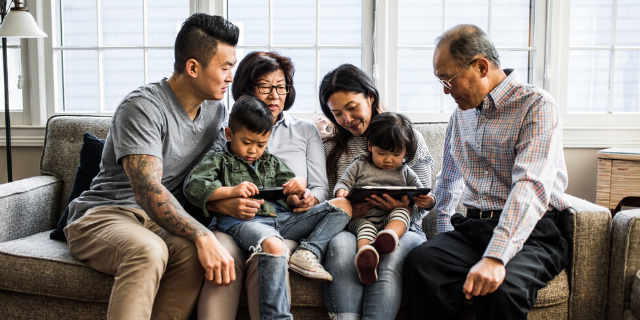 While tried–and–true rules apply to working with most homeowners– like providing stellar customer service, earning great reviews, and keeping in touch as much as possible– it's important to remember that not every customer is the same. Often, generational differences can (and should!) affect how you interact with each homeowner, from how you market to how you keep in touch. Here, we've broken down a few tips for working with homeowners of different generations, so you can provide each client with the best experience, no matter their age.
The Silent Generation (born 1933-1945)
The silent generation is known to value honest, practical work. The best way to attract customers from this generation is through traditional marketing methods like radio advertising, newspaper ads and television spots. According to Angi's State of Home Spending Report, customers from the silent generation are looking to improve the look of their home, more so than modernize it.
If you happen to get a job working for this group of 75 –to 95–year–old homeowners, be sure to provide them with plenty of interaction throughout the project. They also tend to appreciate written communications, so consider sending out a thank you note or card once the job is complete.
Baby Boomers (born 1946–1964)
Baby boomers aged between 55 and 75 years old spend a whopping $548.1 billion annually, according to a 2019 report by market research firm Epsilon. And studies show that if you want to win their business, it's important to reach out to this group directly. Whether you use voicemail, email or a face–to–face video chat, know that boomers find it important to create an ongoing relationship with the pros they hire. This group is also known to place a premium on customer service, so you may want to find ways to streamline and improve your offerings before you go to give a quote.
Tip: Don't discount using social media to market to boomers–a Pew Research study revealed that 69 percent of adults aged 50 to 64 years use at least one social media site.
Gen X (born 1965-1980)
Gen Xers straddle the line between boomers and millennials, which means it's best to reach out to them using both digital channels and traditional avenues to get results. A combination of direct communication channels like text messages, social media posts and emails should help you catch this group's attention. Plus, regular posting will help keep your company top of mind for repeat business.
Tip: According to the ecommerce experts at Big Commerce, this group is made up of frugal spenders. They're the most likely group to take advantage discounts and coupons, so it may be a good idea to try running a promotion to attract new Gen X homeowners.
Millennials (1981-1996)
More and more millennials become homeowners each year, and according to our State of Home Spending Report, this group is most likely to complete projects to boost their home's value. These 24 –to 39–year–olds are digital natives, and they prefer to keep in touch via text messages and social media. As savvy shoppers, they're most likely to check ratings and reviews (and your online reputation) before they invest in a service.
Tip: Millennials are the largest and most influential group of consumers in America. So, if you haven't already, now may be the time to learn how to win millennial customers (and improve your business in the process).
Stay Up to Date on Trends
Get the latest marketing & business tips in your inbox.