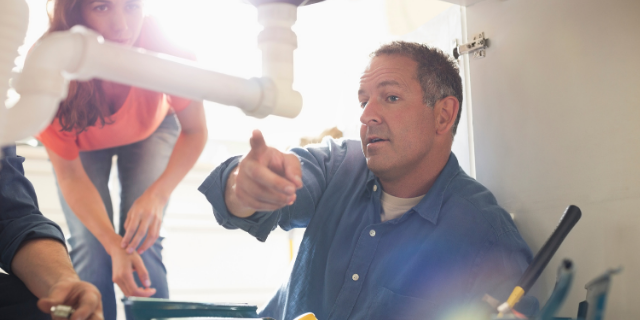 As a pro, you know that providing home services today looks much different than it did a few months ago. From face masks to digital payments and new sanitization practices, we're all making changes to create the safest work environment possible. But change isn't always easy, and some homeowners may be wary of hiring a pro during COVID-19. Here, we've put together a few ways to help alleviate homeowner fears upfront and provide the best experience possible.
1. Be transparent about safety precautions.
Before you step foot in a home, be sure to let homeowners know the specific safety precautions you're taking on the job. From wearing facemasks and gloves to sanitizing your workspace and performing daily temperature checks — communicating these measures will help put your clients at ease. You'll also want to let customers know if you're offering new, contactless digital payments through a system like Angi Pay.
Tip: If you're offering parts of your service remotely, consider whether these remote work techniques could work for the long–term.
2. Set timeline expectations.
If your business is experiencing supply chain issues as a result of COVID-19, be sure to let customers know. Whether materials are scarce, backordered or taking longer to ship, setting up realistic timelines will help maintain homeowner trust and keep everyone at ease.
Tip: If you're having trouble accessing a popular product or material, see if you can find some alternatives to recommend to homeowners.
3. Provide references.
Don't hesitate to provide references to potential customers so they can check out your previous work. This can include putting former clients in touch with new customers, having a list of testimonials to share, or including before and after pictures on your website or Angi Leads (formerly HomeAdvisor Pro) profile. And if you've done work since COVID-19, you may want to include references speaking to your teams' safety precautions.
4. Share new information.
Be sure to notify customers of any changes to your business operations — whether you're adjusting your hours or implementing new safety precautions — keep them in-the-know. You can send out information to existing customers in email newsletters, text messages or social media posts. Often, using a combination of these channels helps ensure your message gets out to a wide range of clients. It's also a great idea to update your website or Angi Leads (formerly HomeAdvisor Pro) profile to include the safety measures your business is taking in response to COVID-19.
Stay Up to Date on Trends
Get the latest marketing & business tips in your inbox.